Hi everyone-sorry I havent loaded any cards for a while, my mojo seemed to have gone away on holiday after all those anniversary cards I made!!!! Anyway I had a new order (well two actually!!!) come from Simon Says Stamp, and inside were lots of yummy yummy things which has really inspired me (oh by the way Simon Says Stamp are wonderful!).
I really enjoyed making this card with my House Mouse stamp called Beaded Tree, I have never seen such hugh stamps and the image comes out perfect. I decided to use alternative colours for this Christmas cards, I just love alternative colour christmas cards with a bit of silver added in. I used my new Orchid Dew Drops and Christmas Green Prima Flowers. I also got the sewing machine out, and this the second time I have used the stitching techique. Heres the pic.
and another close up of image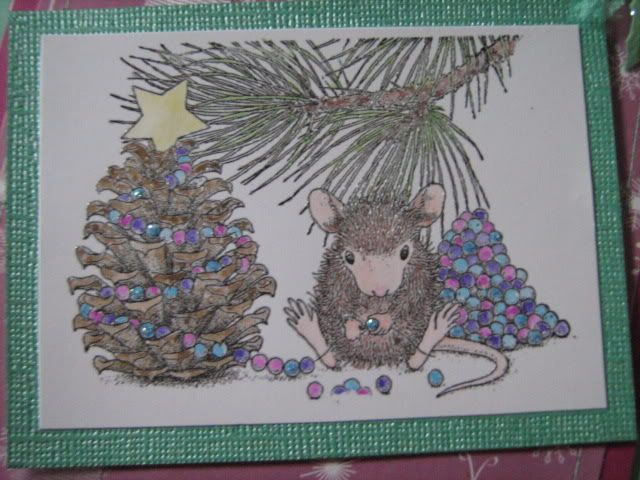 if you look really close you can see some stickles waterfall glitter on some of the beads.
Materials used;
Papermania Deck the Halls papers
Anita Glitterations
Green Christmas Prima Flowers
Orchid Dew Drops
Ribbon from stash
House Mouse Stamp 'Bead Tree' coloured with watercolours and heat embossed with clear powder
Stickles waterfall glitter glue (totally yum! Never used stickles before can you believe!)
Sewing Machine.
Right I guess thats it for today-just to say that House Mouse are having a DT call.
Take Care hope you all have a crafty weekend
Tammy xxx