I love these Be Chic challenges, a time to think outside the box so they say-well I'm thinking about a box!! I decided to change my Dad's new sandal box into a ribbon dispensing box using a lot of paper from the Claire Curd Signature range. I stamped some flowers using the doodle stamps (from Claire Curd again), and cut flowers using my Silhouette machine. I also cut out the word Ribbon using the Silhouette machine, with one of my favourite fonts known as Quirlyques. I used my Crop a dile to make 11 holes. The brads are Papermania. I throughly enjoyed making this, and have been thinking about doing something like this for a while-and its rare I ever make anything for myself-so Be Chic gave me a ggod excuse. Also it was great to have a break from the Wedding Anniversary cards I have been asked to do recently. Here's the pics!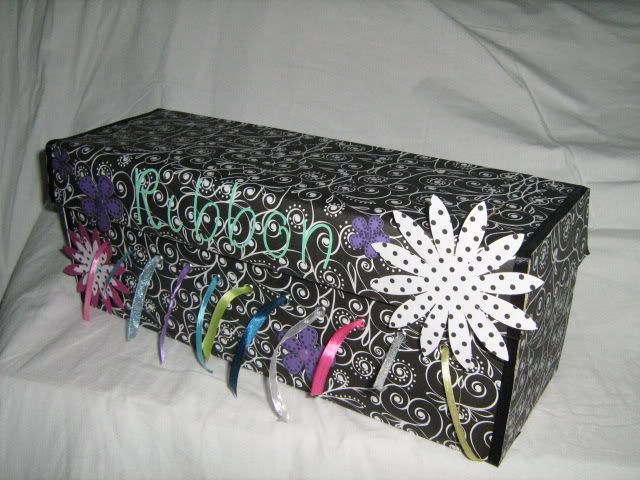 Oh yes and next doors cat decided he wanted to try and help with the photo's!!! I had the door open to try and get as much light in as possible, as it was only 6.30am in the morning here.
And finally here are the Thank you cards I wanted to show you all last week, again I used my Claire Curd bits and bobs to complete these-I do make cards with other things-really I do!!
Thanks so much for looking and have a fun day! I wonder what you will do?? I seriously need to clear my crafting space, I have a new sewing machine I need to put somewhere- and I would like to set up an area for taking more professional photo's-do you guys use a light box??? Would love to know, as it's something I need to work on I know. Oh yes and I've made something stripey with my sewing machine I hope to show you soon. So pop back tomorrow to see some photo's of my crafting space!
Bye Tammy.