Hi All, hope you all keeping well. I decided to have a go at the Be Chic challenge over on the stampin chic blog this week, and seeing as I have lots of Christmas Cards to make it had to be along that theme! So I decided to do a girlie Chic Christmas card and I am very pleased with how this turned out. Heres the pics!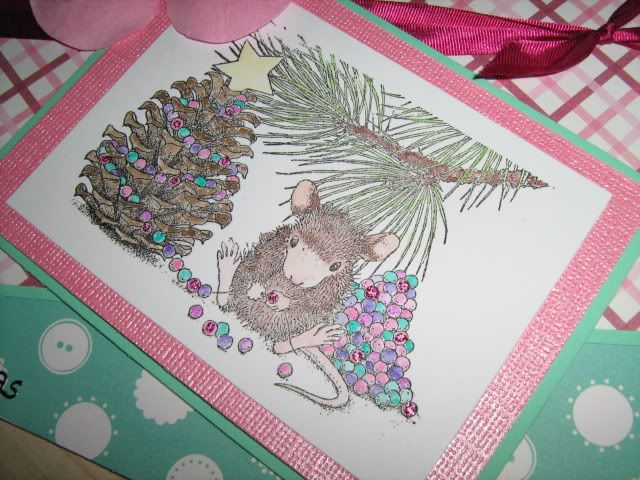 and close up of the cute mouse!
I am so loving House Mouse stamps at the mo, and can't wait to get some more in the future, once I have finished paying off my new toy that is! (My new toy being a part early Christmas pressie from my hubbie and Ipod touch-what fun!)
Anyway the card...
materials used
Claire Curd The Big One Papers
Gemstone Cardstock
House Mouse Stamp, watercolour pencils, and fushia Glitz It glitter glue
Basic Grey Eskimo kisses Buttons
Prima Obsessions Flowers
Ribbon and card from my stash.
Clear Embossing powder and heat gun.
Thanks again for looking and have a great day!
Tammy xxxx