Well it hasn't been all that long, since my last post, so I take my hat off to myself! I am determined to try harder with this whole blogging thing!!! I am feeling very excited today, becuase my big parcel of beadies from the states should arrive at kargo today, and seeing as I only live 5 minutes away, I think I shall go and collect! Can't wait to get stuck in and use some new beads I got from Julie Fountain the other day. Small things make us beaders so happy!!
Hopefully soon, I shall take some photo's of Fethiye, and my hubbie's shop for you to see, Fethiye is so beautiful, and the weather is apsolutely fab at the mo!
But for today, here's one necklace I am so pleased with....I think I shall name it spring lasso (name help from the Uk beaders!)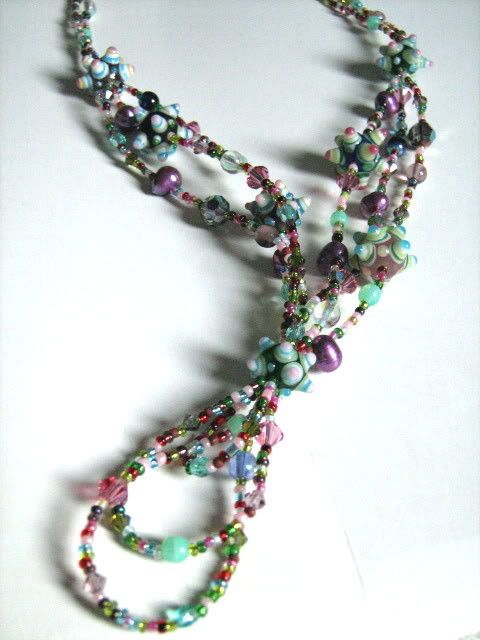 I don't normally like big jewellery for myself, but I came to the conclusion that I am a jewellery designer, and I really should make an effort to wear a bit bolder necklaces etc, so I decided to keep this one for myself. I wear it most days and have fallen in love with it. However, I felt so guilt about this I made a mini version, and bracelet to sell.
I used various Swarovski crystals, dunk beads, dyed pearls, seedies, czech beads, and some blobby lampwork beads, which I bought on a trip to Marmaris.
Well I better away now, I have just finished a brown necklace in a similar style, so I will show you soon and get some great pictures of Fethiye for you!